HOW ABOUT A KISS?
COME VISIT OUR BULLDOG KISSING BOOTH! JUST $1 A SMOOCH!!
Our Valentine's Day Bulldog Kissing Booth at t he Promenade at Sagemore had to be postponed due to the weather, so our bulldogs are going to be Irish for the day and will be doing a "Kiss me, I'm Irish" Bulldog Kissing Booth instead!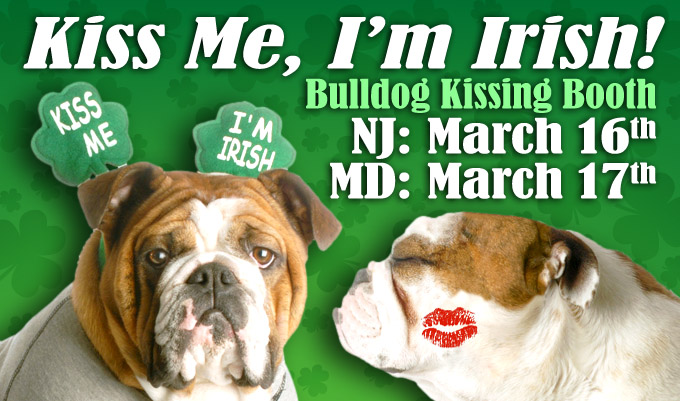 TWO LOCATIONS!!

NEW JERSEY
DATE: Saturday, March 16th, 2013
TIME: 11am - 2pm
LOCATION: The Promenade at Sagemore - Route 73 South, Marlton, NJ

MARYLAND
DATE: Sunday, March 17th, 2013
TIME: 11am - 2pm
LOCATION: PetValu - 40845 Merchants Lane, Leonardtown, MD

CAN'T MAKE IT TO OUR KISSING BOOTH?
HOW ABOUT A VIRTUAL SMOOCH?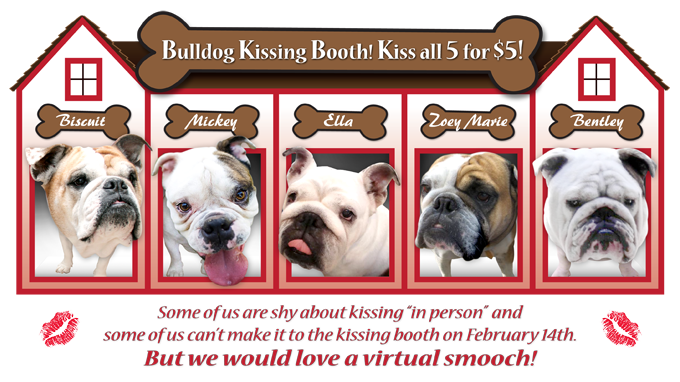 Kiss all 5 of our virtual kissers for $5!

BENEFITS HEAVENSENT BULLDOG RESCUE!!