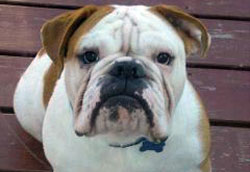 There could be somebully like Milo waiting for you.
Please Remember:
You still need to

fill out an application

even if you don't see a dog listed right now that would be a good match for your family. It only HELPS to have an application filled out already. Sending in an application doesn't obligate you to adopt a dog through HeavenSent, but we sure would like it if you did!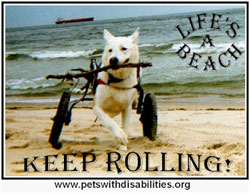 Learn about life with amazing disabled pets!
JUST ADOPTED!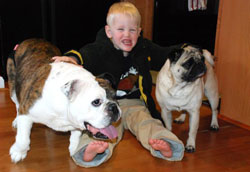 Fiona with her brothers, Clifford and Thurman.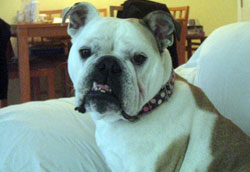 Lucy in her forever home.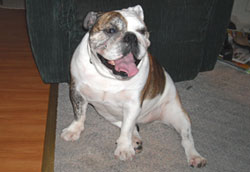 Patches loving all the attention she gets!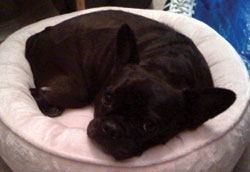 Adoptable Dogs
These dogs need loving homes.
It seems as if we can find ourselves with a new adoptable dog in the blink of an eye. We find that the most convenient and practical way of listing information and updates on adoptable dogs is by using our FaceBook page.
Please click the FaceBook icon to go to our page.




Petfinder is also another great resource for helping us find adoptive families and vice versa.

Because we don't have an actual facility, the foster-moms and foster-dads are really the ones that get to know these dogs best and can keep the their listings up to date with any developments.

Please note, not all of our dogs make it onto Petfinder.com, so please visit our FaceBook page for the most recent adoptable dogs.
Click Here to see HeavenSent's full Petfinder page!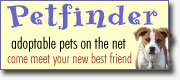 You might find that some of our adoptable Bulldogs are becomming movie stars these days, with links to their own videos!
However...
In the event that we decide not to list a dog on Petfinder, want to list more information about a particular dog, or we are helping another shelter or rescue group place a Bulldog, you will find information on him or her right here. So, don't forget to bookmark this page as well.